Tathastu water softener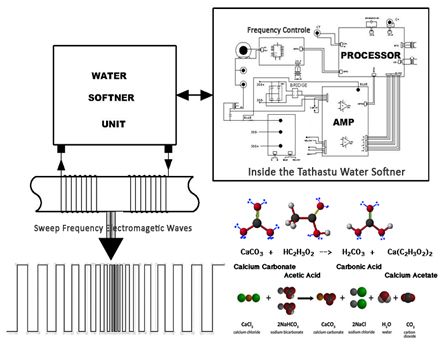 Tathastu has 16 different standard models for all applications like Residential, Agricultural, Commercial, and industrial use. We design special water softener for specific requirement as per water system and hardness. We have solution for any application or any water equipment's. If you think your application is too large or too small, don't worry. We have solution for all this. We have design from 0.5 inch to 40 inch diameter pipe.
Installing a Softer Water softener by Tathastu will allow equipment to work more efficiently and protect your investment in capital equipment - guaranteed!
Product Specification
| | |
| --- | --- |
| NAME : - | Tathastu Water Softener |
| MODEL : - | As per Application |
| APPLICATION : - | Agriculture/Commercial/ Residential /Industrial |
| PIPE SIZE : - | 0.5 to 7 inch pipe size diameter. |
| PIPE TYPE : - | PVC, PEX, copper or any non-ferrous based pipe. |
| INPUT VOLTAGE: - | 90 To 275 VAC, @ < 250 mA |
| INPUT POWER :- | As per selected model |
| OUTPUT VOLTAGE: | As per selected model. |
| OUTPUT CURRENT : | As per selected model. |
| | |
Electrical:
Input Power: 90 VAC to 275VAC, 50Hz/60Hz
Input Wattage: As mentioned in model selection chart

Output Voltage: 12 VDC (TWS 010 To TWS 070)
Output Voltage: 24 VDC (TWS 090 To TWS 400)
Output Current: As per model, 10A Max current @ 1 KHz(All units per channel)


Circuit Protection:
Input Over voltage protection in SMPS
Input Over current protection in SMPS
Mains EMI / EMC protection
Output over current shutdown protection
Thermal overload protection thermal management

Working Specification:
Descaling Type: Resonating Alternating Electromagnetic Field
Principal Of working: Circular copper wire inductor like Solenoid Coil,
Output Signal: AC Square wave, 1 KHz to 24 KHz


DESCALING METHOD

The control box supplies a square wave signal to a Coil of wire that is wrapped around the pipe. The signal is changed sevarel times in a second, producing a modulating frequency Waveform that hits the resonant frequency of the calcium molecules causing Them to lose its adhesiveness.

WARRANTY : 5 years parts only.

Applications

Agricultural
Residential
Commercial
Industrial