Testimonials
Dr. G. Kumaran - Tamilnadu
"I was a scientist from Tamil Nadu University. I have studied a lot on Electromagnetic water softener and then decided to install one in my farm. Then i found Tathastu's agriculture water softener on internet and ordered it for my farm. From the first day of installation i started recording the changes on different types of crop and plant. After 2 to 2.5 months I found the noticeable changes on every crop and plant. After 2.5 months I have taken biomass of Jwari and the Biomass result is 60% increased after treated water. Also I have taken water test of after treated water It clearly shows that the water testing values improved after treatment through water softener."
Some of my observations I am sharing with you.
Pearl Millet (Bajri)
The root growth of Pearl Millet poured with Magnetized water is more than one poured with Bore Water
Javara
The growth of Right Javara pot irrigated by Treated magnetized water is more as compared to Left irrigated by Bore
---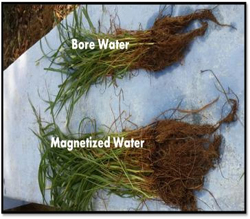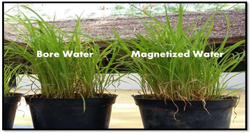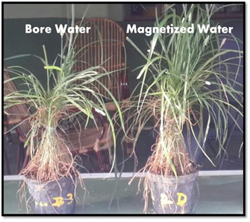 ---
Cotton
The growth of Right Cotton poured with magnetized water is more than Left one poured with Bore Water
Tomato
The growth of right Tomato irrigated with Magnetized water is more than left one irrigated with Bore water.
Rose Plants
Right plant irrigated by treated water, leaves are dark green with flower than Left one irrigated by bore water
---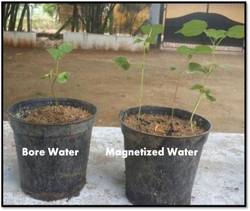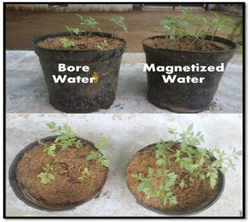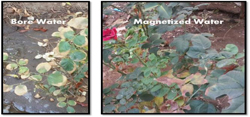 Ashwin Kumar Reddy - Andhra Pradesh
"I am a farmer in Andhra Pradesh. I am doing farming in an area where there is very hard bore water available. Because of this hard water I was facing problems like white scaling on soil, leaf burning and blockages of irrigation system. Once I was searching on Internet and I came to know about Tathastu's Electromagnetic water softener. I call to the given number and they gave me detail information and then I decided to install it in my farm. After installation within 2 months I saw that the scaling on soil is reduced and my crop leaves become green. And now I am taking 60% more production from my farm just because of Tathastu's water softener. Thank you Tathastu for helping me to get more production...."
Purshotam Patel - Gujrat Ugadi
I am a farmer cum businessman and having farm in gujrat ugadi. From Internet I got information about Tathastu's agriculture water softener and I decided to install this in my field. My area gujrat ugadi have very salty water and that's why i was not able to use bore water in my farm. But when i installed Tathastu's water softener now i am able to use this bore salty water directly to my farm and getting upto 65% results.
Pratap Patel - Gujrat Mandvi Kutch
"हम गुजरात के मांडवी कच्छ इलाके में अपनी खेती करता हूँ. हमारे यहाँ बोअर तथा कैनल से पाणी आता है. कैनल का पाणी लिमिटेड होने के कारण मुझे अपने बोअर से पाणी इस्तेमाल करना पड़ता है. जिसकी वजह से मुझे अपनी फसल में पत्ते जलने का प्रमाण बढ़ गया था और जमीन पे सफ़ेद परत भी जमा हो रही थी. जमीन सख्त हो गयी थी. तथास्तु के एग्रीकल्चर वाटर सॉफ्टनर के बारे में मुझे हमारे एक रिश्तेदार से पता चला और उस वाटर सॉफ्टनर के रिजल्ट देखकर मैंने भी तथास्तु के वाटर सॉफ्टनर हमारे खेत में बिठाने का निर्णय लिया. कुछ ही महीने बाद मुझे रिजल्ट दिखने शुरू हो गए. अब फ़सल के पत्ते हरे होने शुरू हो गए है और जमीन का सफ़ेद स्तर भी कम हो गया है."
Ramesh Patel - Gujrat Kutch
"I am a Farmer/engineer when I came to know about this product I bought single device for my agriculture land I belongs to Kutch district Gujrat very hard water here but after using this unique technology I Got unbelievable Results, now I am telling to my Farmer friends to use this Tathastu's agriculture water conditioner. Thanks Tathastu's agriculture water conditioner."
Mr. Anand Managoli - Hubali, Karnataka
"I would like to give you some feedback regarding the effectiveness of the Tathastu's agriculture water conditioner we have installed here at Kadapa Andhra Pradesh. When I discussed with you what the Tathastu's water conditioner could do to improve the soil on our farm field. The farm soil, when unconditioned, clumps together It was presented that the Tathastu's Conditioner was capable of breaking down the clumps and reducing or eliminating compaction of the soil while improving the farm's soil conditions. That summer we purchased and installed a 2-inch Tathastu's on a bore-pipe that we use for irrigation in our farm. Our procedure is to water the farm twice a day, once in the morning and once in the afternoon. Within a week we noticed that the Tathastu's Water Conditioner started breaking down the clumping soil and eventually eliminated any signs of hard clumping. In addition we were able to reduce the percentage of crop leaf burn." Best Regards,
Annasaheb Irapanna Adahalli - Belgaum, Karnataka
"I am very happy to tell you that the Tathastu's Water Conditioner is the best device I ever used in my farm. We installed a 2.5-inch Tathastu's Water Conditioner in our sugarcane farm. The crops in our farm were showing stress due to hardness of soil and poor water percolation. In the next 4 to 6 weeks, we noticed a vast improvement in the crops and increased percolation of water into the soil. Unlike other water treatment technologies we have tried, the Tathastu's Water Conditioner is less expensive and requires no ongoing costs. We are now able to make greater use of our well water and have eliminated the significant cost associated with the amount of District Water we used. I would highly recommend the Tathastu's Water Conditioner to anyone needing help with an agricultural irrigation application."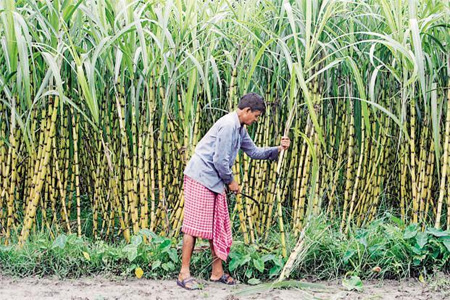 Shree. Ganesh Gadade - Shrigonda, Maharashtra
"नमस्कार ! मी गणेश गदाडे, श्रीगोंदा, महाराष्ट्र येथे शेतकरी आहे. माझ्या शेतात मी कांद्याचे पिक घेतो. मागील बरेच वर्षापासून मी शेतात विहिरीचे पाणी देत होतो. पाणी जड आणि क्षारयुक्त असल्याने शेतातील जमीन पांढरी पडत चालली होती आणि पिकांची पाने पण करपायची. एक दिवस तथास्तु वाटर सॉफ्टनर बद्दल ऐकले आणि त्यांना फोन केला. सर्व माहिती विचारून मी तथास्तु वाटर सॉफ्टनर शेतात बसवायचा निर्णय घेतला. काही महिन्यातच मला पिकावर फरक जाणवू लागला. पाने हिरवी होऊ लागली आणि जमिनीवरील पांढरेपणा कमी झाला. जेव्हा पिक काढणीची वेळ आली तेव्हा माझे उत्पादन आधीपेक्षा जास्त निघाले आणि मला त्याचा फायदा झाला."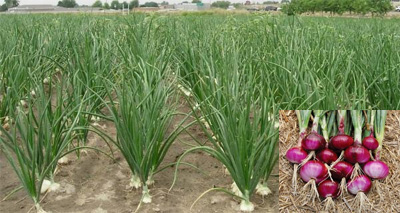 Santaji Bendre - Solapur, Maharashtra
"Using Tathastu's Water Conditioner helped with my hard water problem, increased my cotton crop yield and improved plant quality."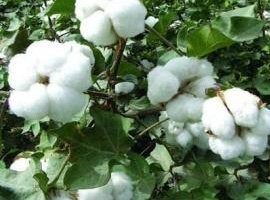 Vasant Mali - Sangli, Maharashtra
"Tathastu's Water Conditioner causes better water penetration for my vegetable crops and I use less water."
Sandeep Sidhu - Hariyana
"I started using Tathastu's Water Conditioner from last 3 to 4 months. My workers observed noticeable results in the farm. Also they observed that previously in hard water some crops were not able to grow but now after using Tathastu's treated Water it become started growing. I am very happy by using this and advising my other friends to install it in the farm."
Rahul Kapase - Niphad
"Tathastu's Water Conditioner vishai amchya kakani amhala sangitle. Amcha drakshancha bag niphad yethe ahe. Amchya malyat Tathastu's Water Conditioner basvlyanantar jamin bhusbhushit zali, kadimadhe changlya ghadacha vikas zala, paane karpnyache praman kami zale, panacha hirvepana vadhla, kami panyat changli faldharna zali, panyat 30% paryant bachat zali."